Series 63 Sample Questions
View Example Questions for Free
Looking for Series 63 sample questions?
With current content, designed to mimic today's exam, Pass Perfect is the place to find free Series 63 questions. Our proven prep packages help you retain information instead of memorizing — so you will pass. And our Pass Promise guarantees it. Take a look at some Series 63 example questions before you start studying — because the first step to passing the Series 63 exam is understanding what it looks like.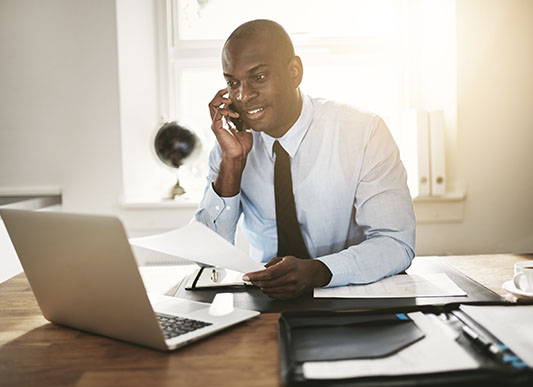 1)
Which of the following MUST notify the Administrator if an agent of a broker-dealer is terminated?
I Agent
II Ex-employer
III FINRA
IV SEC
A ) II only
B ) I and II only
C ) I, II, III
D ) I, II, III, IV
Answer: B
Rationale: Under the Uniform Securities Act, when an agent associates with a broker-dealer; or terminates those activities that make him or her an agent; both the agent and the broker-dealer must notify the State Administrator promptly.
2)
State "blue sky" laws provide for registration of all of the following EXCEPT:
A ) Broker-dealers
B ) Agents
C ) Investment advisers
D ) Issuers
Answer: D
Rationale: State blue sky laws provide for registration of broker-dealers and agents; registration of investment advisers and investment adviser representatives; and registration of securities issues. Note that the issuer itself is not registered in the state under the Uniform Securities Act - only the securities that it issues are registered.
3)
An officer of a company that wishes to register shares in a State in a "non-issuer" distribution, would rely on which registration procedure?
A ) Registration By Filing
B ) Registration By Qualification
C ) Registration By Coordination
D ) Registration By Administration
Answer: A
Rationale: Registration by Filing is the method commonly used by "non-issuers" to offer shares in the State. As an example, an officer of a company holds unregistered shares of that company. If the company has registered shares outstanding, and is current in its SEC filings, the officer can sell the shares under SEC Rule 144, which registers the shares federally. To register the shares in the State, the officer would use the Registration by Filing procedure, since it is the simplest registration method.
4)
Which of the following is a TRUE statement about managed wrap accounts? The customer is charged:
A ) A single annual fee based on total assets in the account for account transactions and maintenance
B ) A commission for each transaction performed
C ) A commission for each recommendation that results in a transaction
D ) Both a commission on each transaction performed and an annual maintenance fee based on total assets in the account

Answer: A
Rationale: Wrap accounts are a type of customer account, where all services performed by the broker are "wrapped" into a single account; and a single annual fee based as a percentage of assets under management is charged. There is no commission charge for each transaction performed in such an account; all services are covered in the single "wrap" fee.
5)
In order for the State Administrator to enter an order revoking or suspending a registration, which requirement MUST be present?
A ) The order must be in the public interest
B ) The registration must be misleading
C ) A complaint must have been received by the Administrator
D ) A willful violation of the Act must have occurred
Answer: A
Rationale: If the Administrator wishes to enter an order suspending or revoking a registration, this action must be in the public interest and the Administrator must believe that a violation of the Act has occurred; or is about to occur.